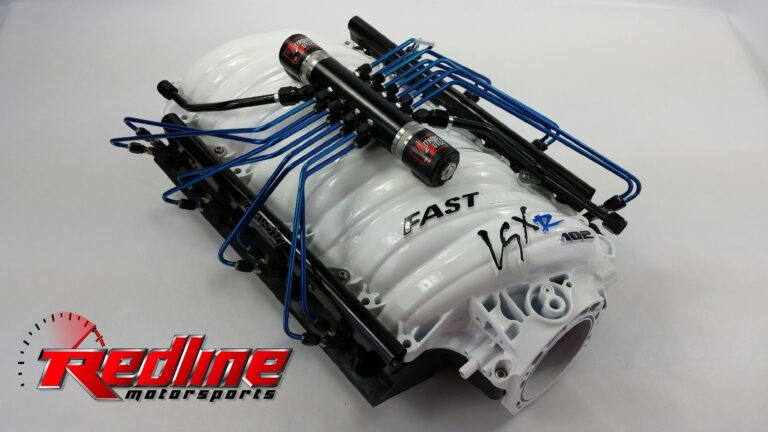 A Nitrous Oxide Engine, or Nitrous Oxide System commonly referred to and known as NOS, is an internal combustion engine in which oxygen for burning the fuel comes from the decomposition of nitrous oxide, N2O, as well as air. The system increases the engine's power output by allowing fuel to be burned at a higher-than-normal rate, because of the higher partial pressure of oxygen injected with the fuel mixture.[1] Nitrous oxide is not flammable at room temperature, it only becomes flammable under extensive pressure. Nitrous injection systems may be "dry", where the nitrous oxide is injected separately from fuel, or "wet" in which additional fuel is carried into the engine along with the nitrous. NOS may not be permitted for street or highway use, depending on local regulations. N2O use is permitted in certain classes of auto racing. Reliable operation of an engine with nitrous injection requires careful attention to the strength of engine components and to the accuracy of the mixing systems, otherwise destructive detonations or exceeding engineered component maximums may occur.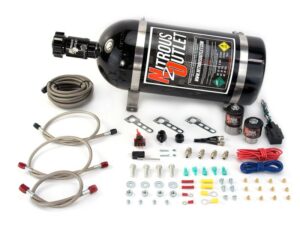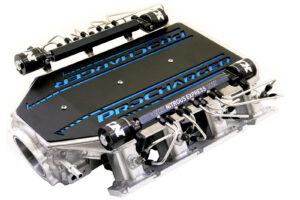 There are two categories of nitrous systems: dry & wet with four main delivery methods of nitrous systems: single nozzle, direct port, plate, and bar used to discharge nitrous into the plenums of the intake manifold. Nearly all nitrous systems use specific orifice inserts, called jets, along with pressure calculations to meter the nitrous, or nitrous and fuel in wet applications, delivered to create a proper air-fuel ratio (AFR) for the additional horsepower desired.
Dry
In a dry nitrous system the nitrous delivery method provides nitrous only. The extra fuel required is introduced through the fuel injectors, keeping the manifold dry of fuel. This property is what gives the dry system its name. Fuel flow can be increased either by increasing the pressure or by increasing the time the fuel injectors remain open.
Dry nitrous systems typically rely on a single nozzle delivery method, but all of the four main delivery methods can be used in dry applications.  Dry nitrous systems on fuel injected engines will use increased fuel pressure or injector pulse width upon system activation as a means of providing the correct ratio of fuel for the nitrous. This is typically done with a Holley Controller on our Direct Injection builds. 
Wet
In a wet nitrous system the nitrous delivery method provides nitrous and fuel together resulting in the intake manifold being "wet" with fuel, giving the category its name. Wet nitrous systems can be used in all four main delivery methods.
In wet systems on fuel/direct injected engines care must be taken to avoid backfires caused by fuel pooling in the intake tract or manifold and/or uneven distribution of the nitrous/fuel mixture. Port and direct fuel injection engines have intake systems engineered for the delivery of air only, not air and fuel. Since most fuels are heavier than air and not in a gaseous state when used with nitrous systems it does not behave in the same way as air alone; thus the possibility of the fuel being unevenly distributed to the combustion chambers of the engine causing lean conditions/detonation and/or pooling in parts of the intake tract/manifold presenting a dangerous situation in which the fuel may be ignited uncontrollably causing catastrophic failure to components. 
Single nozzle
A single nozzle nitrous system introduces the nitrous or fuel/nitrous mixture via a single injection point. The nozzle is typically placed in the intake pipe/tract after the air filter, prior to the intake manifold and/or throttle body in fuel injected applications, and after the throttle body in carbureted applications. In wet systems the high pressures of the nitrous injected causes the aerosolization of the fuel injected in tandem via the nozzle, allowing for more thorough and even distribution of the nitrous/fuel mixture.
Direct port
A direct port nitrous system introduces the nitrous or fuel/nitrous mixture as close to the intake ports of the engine as is feasible via individual nozzles directly in each intake runner. Direct port nitrous systems will use the same or similar nozzles as those in single nozzle systems, just in numbers equal to or in multiples of the number of intake ports of the engine. Being that direct port systems do not have to rely on intake tract/manifold design to evenly distribute the nitrous or fuel/nitrous mixture, they are inherently more precise than other delivery methods. The greater number of nozzles also allows a greater total amount of nitrous to be delivered than other systems. Multiple "stages" of nitrous can be accomplished by using multiple sets of nozzles at each intake port to further increase the power potential. Direct port nitrous systems are the most common delivery method in racing applications.
Plate
A plate nitrous system uses a spacer placed somewhere between the throttle body and intake ports with holes drilled along its interior surfaces, or in a tube that is suspended from the plate, for the nitrous or fuel/nitrous mixture to be distributed through. Plate systems provide a drill-less solution compared to other delivery methods as the plates are generally application specific and fit between existing components such as the throttle body-to-intake-manifold or upper-intake-manifold-to-lower-intake-manifold junctions. Requiring little more than longer fasteners, plate systems are the most easily reversed systems as they need little to no permanent changes to the intake tract. Dependent on application, plate systems can provide precise nitrous or fuel/nitrous mixture distribution similar to that of direct port systems.
Bar
A bar nitrous system utilizes a hollow tube, with a number of holes drilled along its length, placed inside the intake plenum to deliver nitrous. Bar nitrous delivery methods are almost exclusively dry nitrous systems due to the non-optimal fuel distribution possibilities of the bar. Bar nitrous systems are popular with racers that prefer their nitrous use to be hidden, as the nitrous distribution method is not immediately apparent and most associated components of the nitrous system can be obscured from view.