Supplement Port Fuel......... do I need it??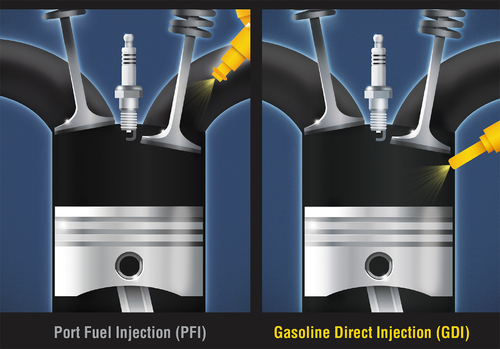 GM debuted the Gasoline Direct Injection GEN5 small block in 2014 in the C7 Corvette and trucks. This new fueling strategy replaced the prior models Port Fuel Injection with an injector located in the cylinder head that directly sprays fuel into the combustion chamber vs fuel being injected in the intake runner of the cylinder head. 
The shift to GDI offered many benefits in performance such as being able to run higher compression ratios (due to fuel quenching), better fuel atomization and improved intake runner flow (as fuel displaces air on a port fuel engine) which all equated to increase efficiency and subsequently more power…. but this strategy created some obstacles for making big power. 
How does Direct Injection Work??
GDI engines require very high rail pressures behind the injectors in order to move enough fuel in a short period of time. This is done by a mechanical pump located in the back of the engine and operated by a specific camshaft lobe. This pump however is fed fuel from the gas tank by a traditional style fuel pump we refer to as the "low side". Typically a low side puts out around 58 psig of pressure to the "high side" pump where the high side pump raises these pressures between 500-2800 psig!
In a DI engine there is a very limited amount of time to actual fire the injector. This is due to the placement of the injector and that you cannot spray fuel when the exhaust valve is still open. This typically places the Start Of Injection (SOI) around 4 degrees after TDC. This is also the start of the intake stroke where the intake valve is open and air is the drawn into the cylinder. Once the piston reaches BDC (or 180 degrees ATDC), the injection window needs to end. The means you have about 5 milliseconds to fill the cylinder with enough fuel to match the airflow. On a stock engine this is doable. But if you double the engines airflow you need to double the fuel flow and doing this in 5 ms of timing is quite a task! This is also why GDI uses very high fuel pressures. Higher pressures mean more flow. These high pressures are also needed as the cylinder is also under high pressure it this injection needs to overcome this.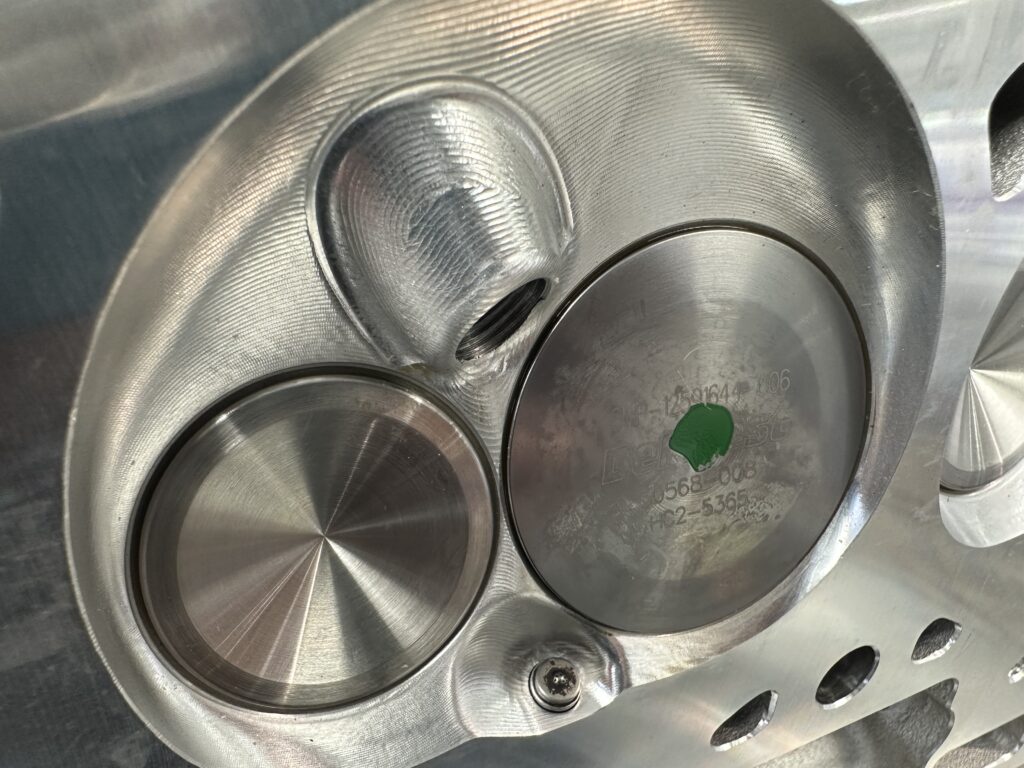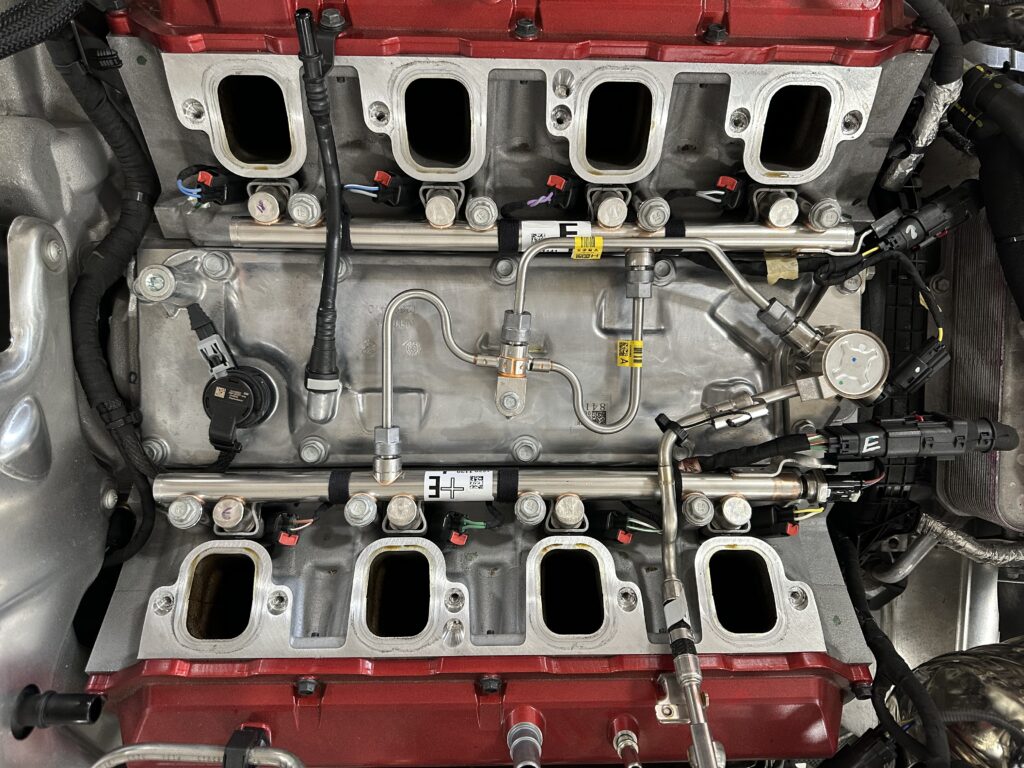 Injector located in combustion chamber
High Pressure Side Distribution
How Does Supplement Port Fuel Work?
The solution to reach high power levels is the use of dedicated supplement port fuel systems. This system consists of larger in tank fuel pumps (dual or triple), -10 or -8 AN fuel lines dedicated fuel rails and eight port fuel injectors located near the cylinder head intake ports. All of this being controlled by a stand alone fuel controller. The strategy is you still use the Direct Injection System and blend in the port fuel before the DI runs out. This requires some detailed calibration methods to make these two systems work together.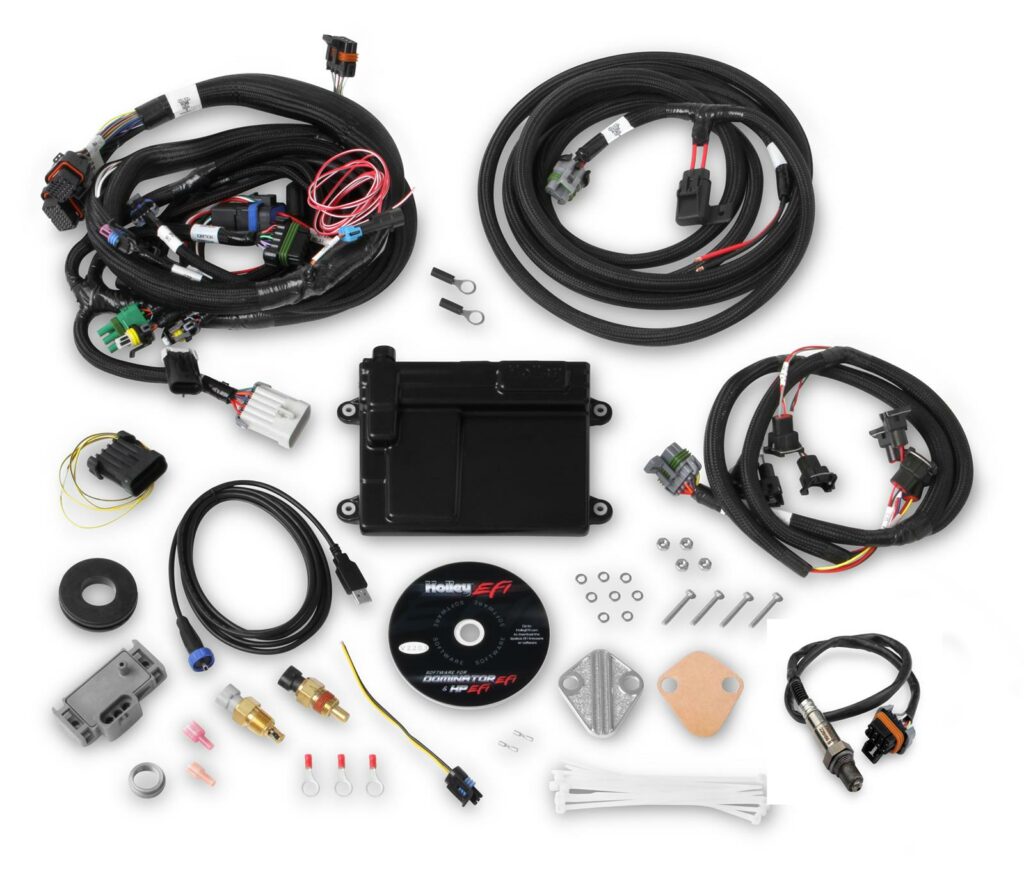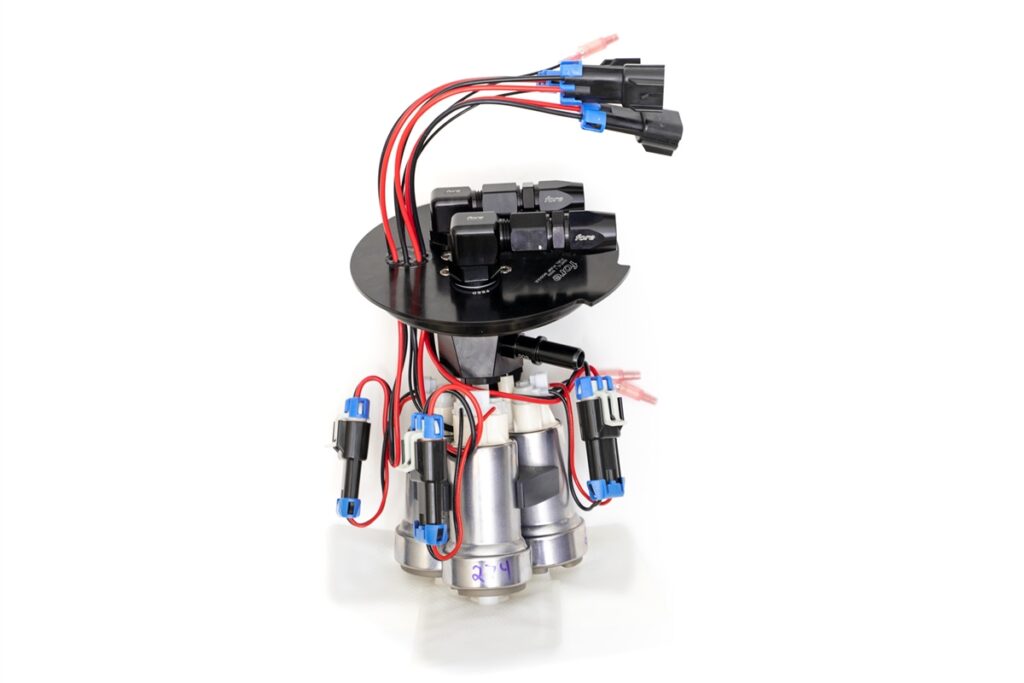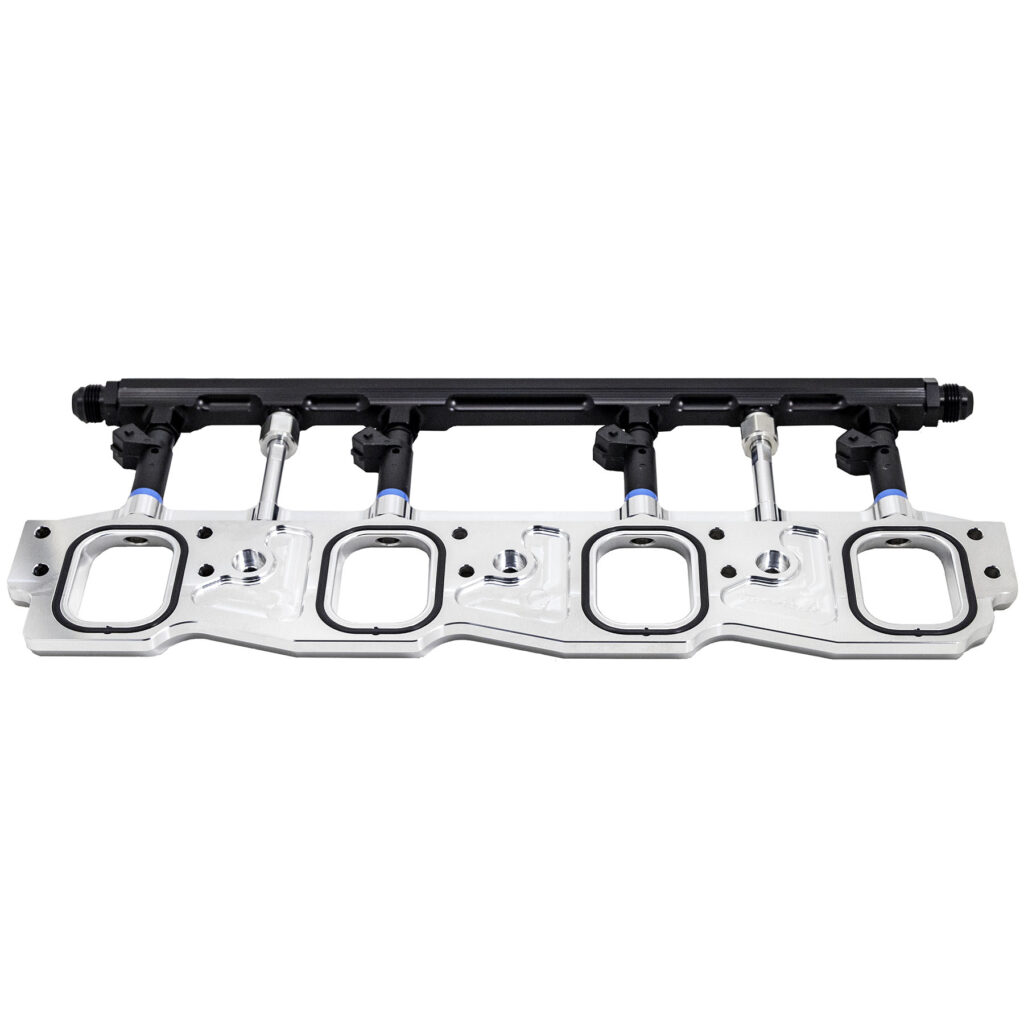 Fuel Control Management System
Triple in Tank Fuel Pumps
Port Fuel Injection Plates
(For Magnuson Supercharger)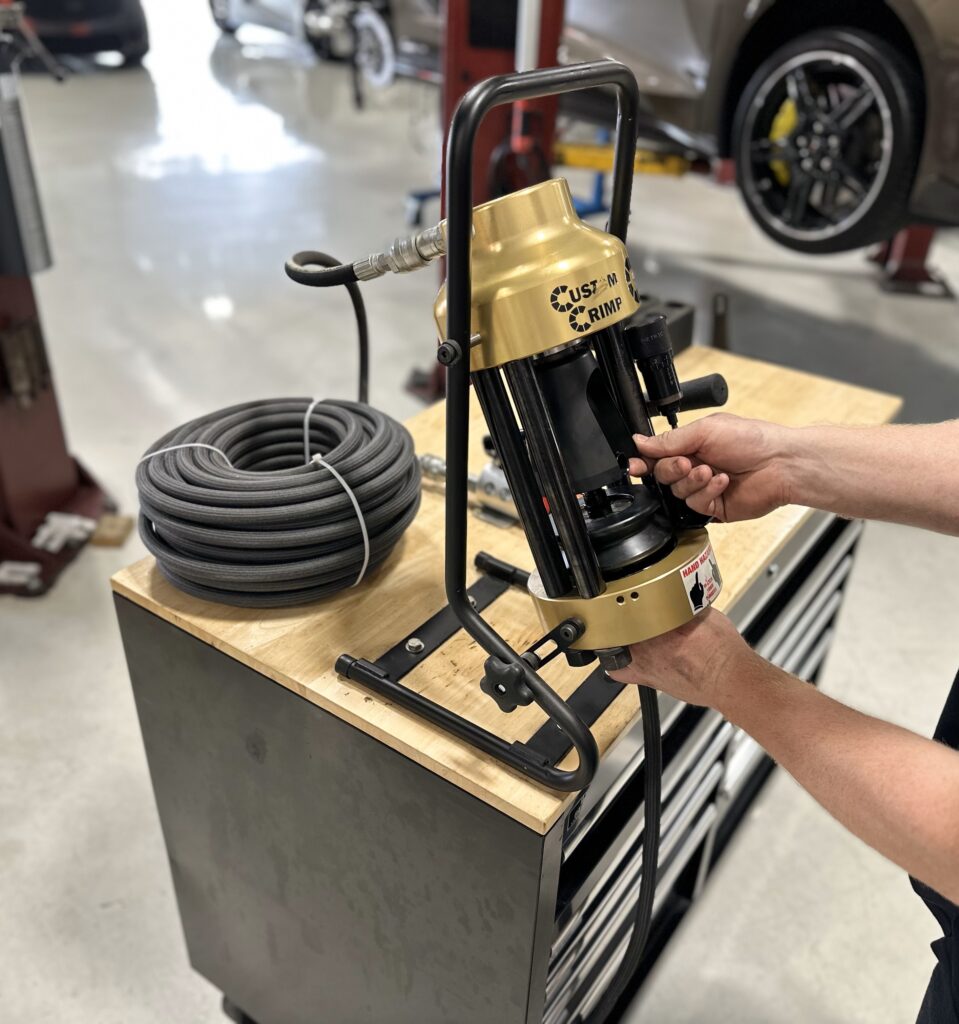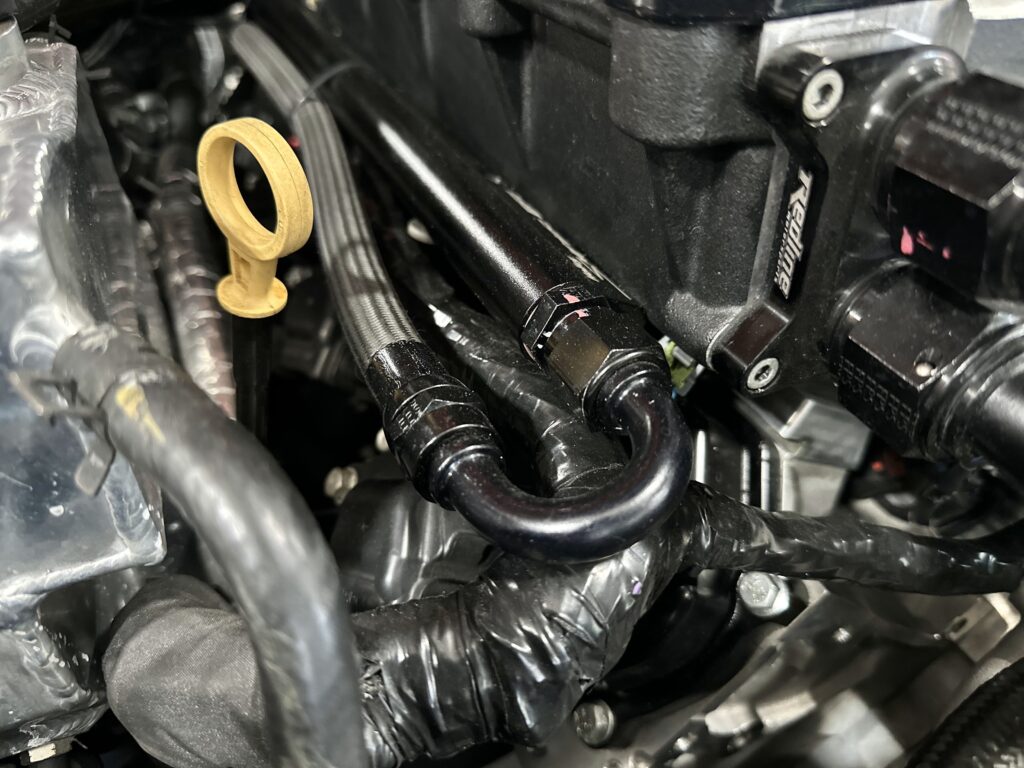 Hydraulic Crimp press we use to build high quality fuel lines. This also allows us to make the lines fit exactly where they need to be with perfection! No worm clamps or hand fitted hoses.
Redline stocks a full line of Fragola AN fittings and premium hoses which we use exclusively on our fuel systems.